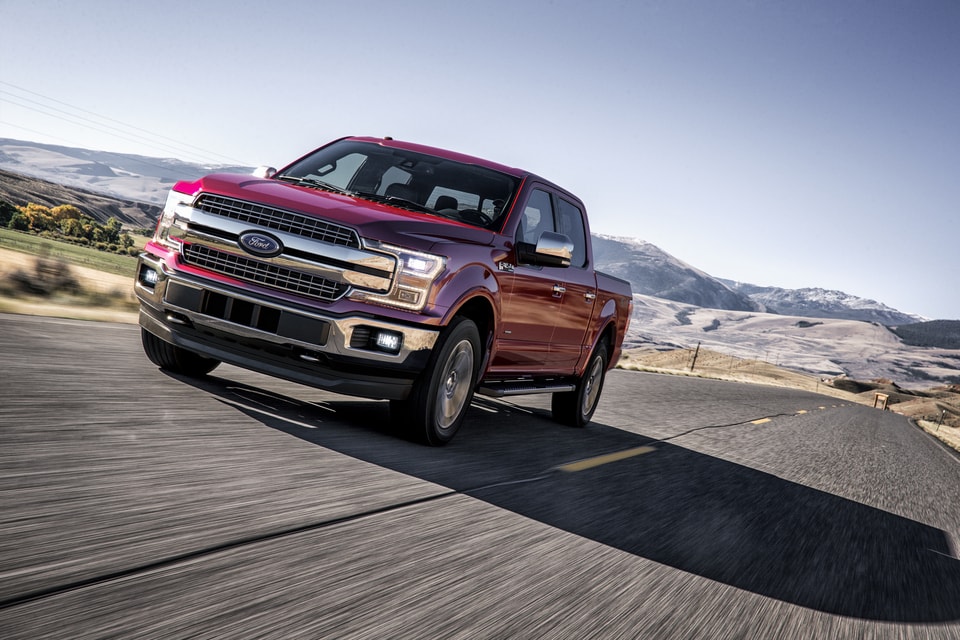 Pre-Owned Ford Trucks for Sale in Saint Paul, VA
Meet Chuck. Chuck is in need of a truck to haul some serious weight around in Saint Paul, VA. But not only does Chuck need a truck, but he also wants to save as many bucks as he can. So, if Chuck needs a truck that can help him save some bucks, he's in luck. This is poetry-but poetry in motion is a pre-owned Ford truck at Morgan-McClure Ford, Inc. And if you're anything like Chuck, then you won't want to miss what we have to offer. It's guaranteed to drive you to victory.
Used Ford, New Quality
Chuck doesn't want to get any old used vehicle from the typical dealership in Saint Paul or Lebanon, VA. He's looking for quality-and we're sure you are, too. So, we've rebuffed our inventory with quality assurance tests from bumper to bumper. Your Ford F-150 and Ford Super-Duty trucks are promised to perform at exceptional levels. Our professional mechanics ensure that your poetic Ford vehicles are equipped with stanzas, double-entendres, and soliloquies. In other words, your engine, alternator, and other major components will be in excellent condition.
Additionally, we take the $40 hit and purchase the Carfax reports FOR YOU. Each of our vehicles comes with a free Carfax report so you can double-check your truck's history and be sure that you've got a vehicle that will stand Ford tough when it's time to roll.
Pre-Owned Ford F-150s
Why are the Ford F-series trucks the most popular truck of all time? It's because of people like you and Chuck. You understand what a good truck is supposed to look like. What it's supposed to feel like when you give that V6 or V8 engine some gas in Norton, VA. You know what poetry looks like-and it doesn't get more poetic than the Ford F-150.
It's perfectly suited to become your everyday truck that's ripe with customization potential. And, if you need to help Chuck move to a new home, then you can strap a few items into your flatbed and help him. Or, if he gets his vehicle stuck in the mud, you can use your tow hookup to drag him out of trouble. It's versatile. It's stylish. It's your Ford F-150.
Pre-Owned Super-Duty Ford Trucks Near Abingdon, VA
When the weight increases, the Ford F-250 and Ford F-350s rise to the challenge. Like when mayor Gordon flashes the bat signal, your need alerts every nearby Super-Duty Ford truck in the area. With the ability to haul a few tons and tote a couple of thousand pounds of payload, it's no wonder why pre-owned Ford heavy-duty trucks are so popular.
You can browse our complete inventory of Ford heavy-duty pickups and find a low-cost, efficient, and stylish truck for you in Saint Paul, VA. Whether you've got a contracting business or some work to do in construction, a pre-owned Ford Super-Duty truck can handle it. All of it.
Morgan-McClure Ford Inc.
How much in common do you have with Chuck? Let's see-do you like low-priced, high-quality inventory? So does Chuck. Do you enjoy the performance, comfort, and style benefits of a Ford F-series truck? So does Chuck. And, do you like poetry? Well, Chuck doesn't, but he loves riding in a Ford F-series pickup. So, while he doesn't like poetry, he can't avoid becoming poetry in motion when he's driving a Ford truck. And, you can't either. Take a look at our inventory and take a test spin of one of our pre-owned Ford trucks in Saint Paul, VA.